Here is a great, fast and easy dinner.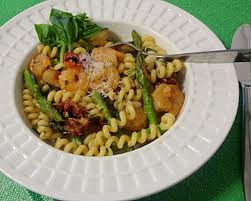 Sometimes cooking is a chore. You arrive home from the gym or from work and you are faced with the daunting task of looking through every cupboard for what to make for dinner. Although, most of you should be prepared beforehand, the times that you are not, give this recipe a shot.
This pasta is healthy, low-calorie and very delicious!!
Recipe Ingredients for Shrimp & Asparagus Pasta

Recipe Directions for Shrimp & Asparagus Pasta
8 ounces penne, whole wheat
16 ounces shrimp, cleaned and peeled
1 red pepper, sliced
1 lb asparagus, cut in one inch pieces
1 tbsp olive oil
1/4 cup parmesan cheese
1/2 tsp red pepper
2 tsp oregano
1 tsp basil
1 clove garlic
In a large skillet heat olive oil over medium heat.
Add garlic and cook for one minute.
Add asparagus and sautee' asparagus for 3 minutes.
Add shrimp, red pepper, oregano and basil.
Cover and cook for 5 minutes or until shrimp are pink and vegetables are tender-crisp; stirring occasionally.
Meanwhile, cook pasta as directed on package.
Drain pasta. Add shrimp & vegetables.
Toss with 1/4 tsp red pepper and parmesan cheese. Serve & enjoy!
Nutrition Facts
Serving Size 216.7g, Amount Per Serving Calories :244,
Calories rom Fat :48 %  Daily Value*Total Fat: 5.3g 8%
Saturated Fat :1.4g 7%  Trans Fat: 0.0g  Cholesterol: 179mg 60%
Sodium : 245mg 10% Total Carbohydrates: 25.4g 8%
Dietary Fiber: 2.2g 9% Sugars: 2.3g Protein: 23.6g
Vitamin A 29% • Vitamin C 74% Calcium 11% • Iron 31%
* Based on a 2000 calorie diet
Nutritional details are an estimate and should only be used as a guide for approximation.
 Fat
 Protein
 Carbs
 Alcohol
 Other
Health Information
Nutrition Grade
96% confidence

Good points
Bad points